Where Could You Install A Woven Or Bamboo Shade In New Brunswick?
If woven fiber and bamboo shades sparked your interest when browsing for window coverings, you undoubtedly noticed their allure instantly and pictured them in your New Brunswick rooms. They definitely look different from typical fabric window shades. They function in a bit of a different manner as well. Natural products like bamboo shades may not meet your window treatment requirements in every situation, but you will discover times when they are the perfect window treatment. Explore how you can implement woven fiber and bamboo shades in your New Brunswick home to fully enjoy these stunning window treatments.
Use Woven Or Bamboo Shades In New Brunswick To Bring A Bit of Nature To Your Decor
A multitude of modern interior designs put an emphasis on implementing natural elements to move a small portion of the outdoors into your home. If you already have real wood furnishings and indoor plants, you can turn to woven or bamboo shades in New Brunswick to welcome an additional natural focal point to your interior. Get window shades in natural substances like rattan, jute, grasses, and bamboo. They feature their own look to suit your tastes. Their natural colors and fibrous textures are found in endless variations that impart a warm, lasting appeal to your residence.
Use Woven Shades To Get The Right Amounts Of Light And Privacy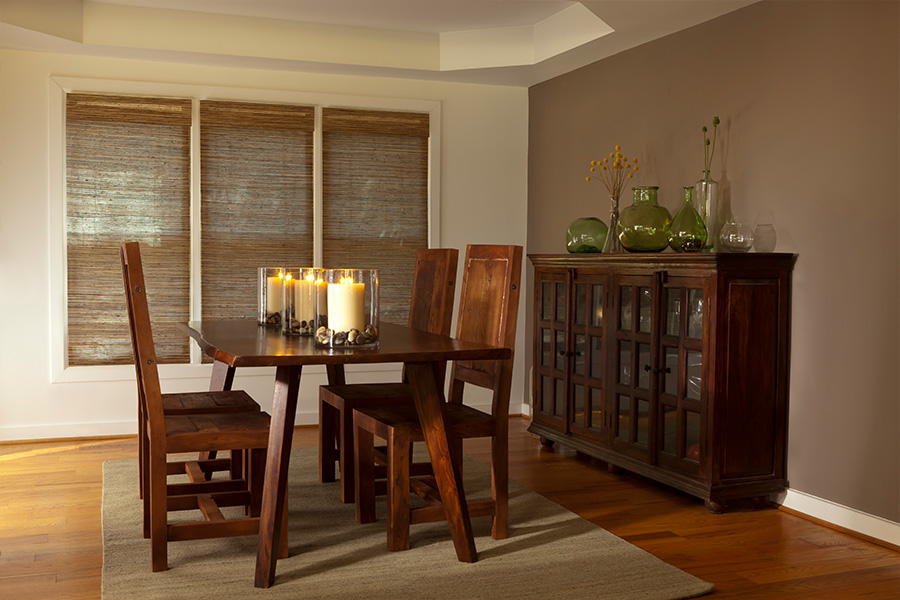 The products you place in your windows are intended to help in delivering the levels of sunlight and privacy you desire in your interior. You'll find an abundance of beautiful weaves, and each shade permits a different amount of sunlight to filter into your space, dependent upon the tightness of the weave. You could use shades with a looser weave in a sunroom or breakfast nook for a bit of privacy while still getting plenty of sunshine. More compact weaves increase your privacy and minimize intense sunlight in a den or family room where you would like a little light from the exterior but not glaring sun beams. On the other hand, if you want complete privacy and darkness in bedrooms or bathrooms,
louvered shutters
or "blackout" shades are the preferred choice.
Select Bamboo Shades If You Want Eco-friendly Window Treatments
A steadily growing amount of people care about their impact on the earth and prefer eco-friendly options. If you count yourself in this group, use bamboo shades in your New Brunswick residence. Bamboo is an eco-friendly option because it regrows very quickly. And it doesn't require dangerous chemical processing. Bamboo offers strength and flexibility, so it creates durable window shades that will last a long time. If you ever opt to switch them out, bamboo is biodegradable, unlike window treatments composed of synthetic substances.
Ask The Experts At Sunburst Shutters New Brunswick On Where To Employ Bamboo Shades In Your New Brunswick Residence
Sunburst Shutters New Brunswick provides only the highest quality woven and bamboo shades for our New Brunswick customers. Our staff consults with you to locate the window treatment that ideal for your interior and expertly install them for you. Start your project by calling us today at 732-301-6168 or submit the form below to arrange a complimentary, on-location meeting.