French Door Shutters In New Brunswick
Plantation shutters aren't just for windows – they're also a beautiful accent to french doors. If your home has one or two doors that open out to your patio and you want to cover the glass for better lighting or looks, then plantation shutters are for you. Combine eye-catching home fashion with usability when you choose New Brunswick's best shutters for your french doors.
Why Are Shutters Great for French Doors?
You have a lot of options for decorating french doors in New Brunswick. Many New Brunswick homeowners choose blinds, shades, or curtains, but a lot of those have some serious downsides. Both styles of blinds (standard or vertical) swing and bang against the door anytime they're open, whereas drapes snag and can get caught in the door.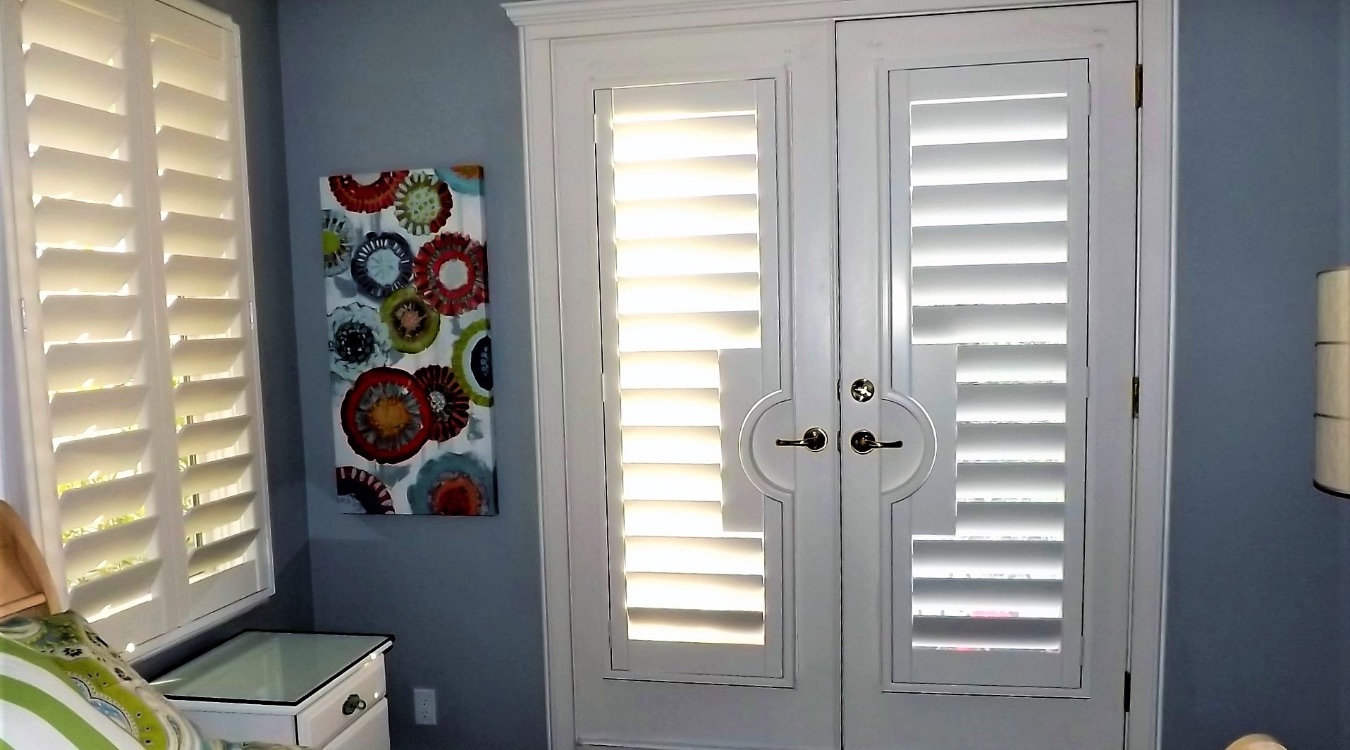 Plantation shutters on the other hand don't have to worry about that. Instead of cluttering up your patio door, they're more like part of the door, installed directly onto the frame. It's more than that, though. Plantation shutters for french doors offer benefits that many people don't even know about until they experience them in person.
French Door Shutters Let You Take Control of Natural Light
Shutters let you control natural light better than any other option. Let in as much or as little light as you want, at any angle you want. Going from fully open to no light is as easy as tilting the louvers, all without the trouble of cords or wands.
French Door Shutters Maintain Your Privacy
Want to keep neighbors' eyes out of your patio door? Then shutters are for you. While blinds can be seen through at certain angles curtains let outsiders see silhouettes from inside. Shutters are the best solution for privacy.
Matching Design & Colors With French Door Shutters
Are your french doors the centerpiece of your room, or do you like to move eyes away from them? Either way, french door shutters can help you achieve your perfect design. Color match the shutter to your baseboard trim in order to continue the theme, or pick a bright white shutter for a flash in the middle of your space.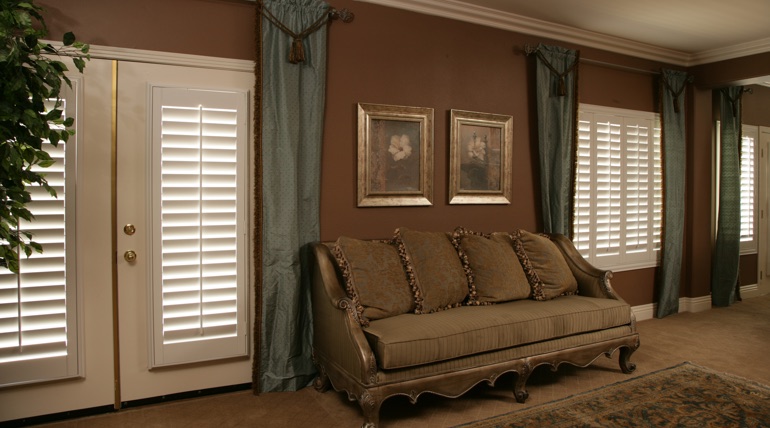 Pick from Polywood® faux wood shutters, Ovation® natural wood shutters, and other styles with Sunburst Shutters New Brunswick.
French Door Shutters With Custom Door Handle Cut-Outs
With blinds or drapes, you'll need to move them around to use the door handle. But that's not a concern with shutters!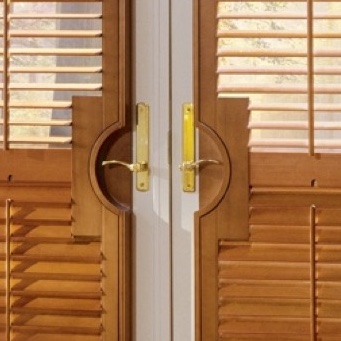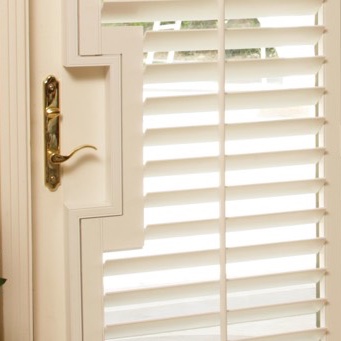 To offer you the best in practical and stylish shutters, we can custom make either square door handle cut-outs or rounded door handle cut-outs to let your door handle move freely.
Custom-Made to Any French Doors
Sunburst's plantation shutters are custom made specifically for your french door. Blinds and shades will require a decent amount of space above and to the sides of the door for the railings. But regardless of how much space there is around your door, plantation shutters can work. Sunburst uses a unique 3D blueprint software to plan out your shutters, then build them by hand to guarantee a perfect fit for your home and your lifestyle.
Want More Info?
Get all your questions about french door shutters and patio door window treatments answered by one of our experts. Call us at 732-301-6168 or use the form below to reach out – our team is here to help!