8 Ideas for Using Reclaimed Wood in Your New Brunswick Home
This may come as a revelation to you, but reclaimed wood is all the rage with New Brunswick people, who seem to love its natural look and the positive effect it has on their home décor. It's making definite inroads as a desirable way of upgrading weathered wood and, at the same time unleashing your individual style. Reclaimed wood products draw one's gaze whether on a wall, your cabinets, or even your windows. Having trouble picturing where reclaimed wood would stand out in your home? We put together 8 fantastic ideas for you – all applied to marvelous effect in New Brunswick homes.
1.Outfit Your Windows with Reclaimed Wood
Believe it! This is a first: reclaimed wood – that décor choice you've long wanted to showcase in your home – is now, at last, available to you as a stunning window treatment. Sunburst Shutters now offers a plantation shutter made from the best-quality reclaimed wood. To be sure, Sunburst is the sole company offering you reclaimed wood shutters in the New Brunswick area. We took the reclaimed wood you like and used it to create a louvered shutter that's just as appealing for its functionality as it is for its beauty.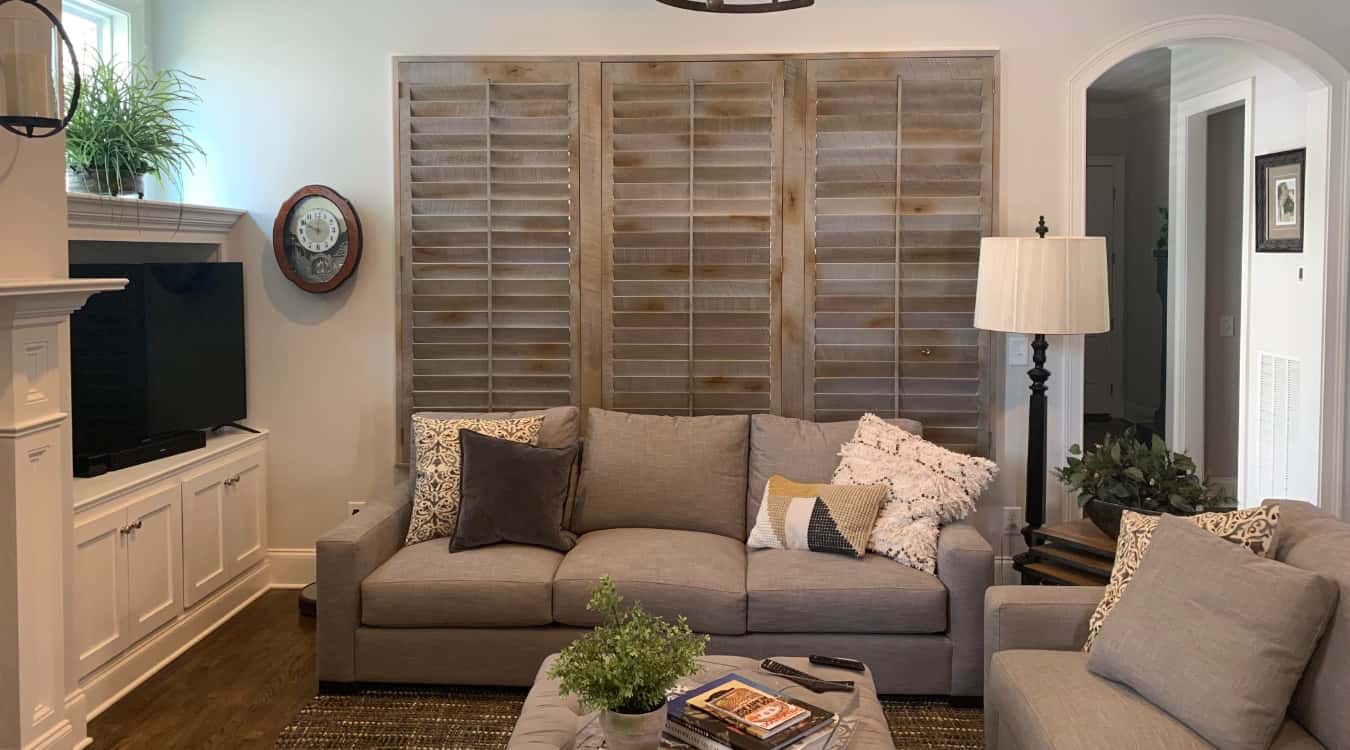 Reclaimed wood can make for a most unique window treatment. You've got a head start, for sure, when your reclaimed wood shutters are themselves works of art. And Sunburst makes sure they are. You'll be thrilled by their smooth, simple operation as well as their appearance. Tilt the louvers open to let more light in. And tilt them closed to enjoy fully the weathered look of reclaimed wood on your window. If we've heightened your interest, you'll want to look further into reclaimed wood for windows in New Brunswick
2. Reclaimed Wood and Walls
Nothing brings the outside into your home as beautifully as a reclaimed wood wall. Reclaimed wood paneling accentuates your wall and lends a comforting atmosphere to the room. It makes no difference whether you have a fireplace, artwork, TV, or bookcase you want to show off, a reclaimed wood wall will look stunning behind it and give you precisely the effect you've sought.
3. Reclaimed Wood and Floors
Been thinking about redoing a floor in your house? Wood flooring of any kind can make a room feel warmer, but flooring of reclaimed wood has an unparalleled beauty that says something about the time – usually decades – the wood has remained in its natural habitat. Regardless of whether you're partial to being outside in nature or merely one who likes the appearance of weathered wood, you'll go into your happy dance for sure when you see what a reclaimed wood floor can do to make your home come alive.
4. Reclaimed Wood for Cabinets
Given the reclaimed wood's growing popularity, this may be the opportune time to make over your kitchen cabinets. It's the natural way to revive your entire kitchen. Each panel of reclaimed wood relates a fascinating tale – of long years hidden away in an old building, for example, or in the crumbling structure of a barn or fence. And a bit of that narrative will endure in your reclaimed wood cabinets, crossing your mind each time you reach into them.
5. Reclaimed Wood as a Table
Tabletops partially or completely made of reclaimed wood can lend a modern, totally different look to your dining room or home office. Meld the subtle, natural hues of reclaimed wood with your overall interior design for a cohesive look that satisfies your creative vision – as it "wows" your guests!
6. Bookcases of Reclaimed Wood
However else we may regard them, books make great decorative pieces. Leather, vinyl, buckram, or paperbound books and those with colorful dust jackets look good on a coffee or end table, on a bookshelf, or in a large bookcase. Their agreeable variety is both accentuated and complemented in bookcases of real wood, too. And bookcases of reclaimed wood, because of their natural colors, knots, holes, scratches, and other markings, create a singularly distinctive, one-of-a-kind décor item.
7. Picture Frames of Reclaimed Wood
The muted, natural look of reclaimed wood is ideal for picture frames. It actually can enhance your favorite artwork and most cherished photos in a uniquely elegant manner. What's equally notable that frames of reclaimed wood can be constructed in a multitude of styles, thus they'll harmonize with practically any décor scheme.
8. Use Reclaimed Wood for Your Headboard
Nothing can upgrade the ambiance of a bedroom like a skillfully designed and constructed headboard. It's a tossup nowadays as to whether homeowners want their headboard fastened in some way to the bed or attached to the wall behind the bed. Whichever way works best for you, a headboard consisting of reclaimed wood planking can be undeniably breathtaking. It's natural coloring and imperfections make it work for a multiplicity of styles, from antique to modern. With reclaimed wood, you can let your imagination loose to create the headboard you've dreamed about!
Let Reclaimed Wood Revitalize Your Design Sense
It's our hope that we've inspired you with these 8 ideas for making use of reclaimed wood. But we have a great many more ideas – ideas that work beautifully with the reclaimed wood shutters we alone provide in New Brunswick. Our specialists would be pleased to show you samples of our shutters, answer your questions, and provide you with additional design ideas. Contact us at 732-301-6168 to set up your free in-home design consultation today!