What Are The Leading Window Treatments For Over The Kitchen Sink In New Brunswick?
If you're looking for window treatments, don't overlook the kitchen -- especially above the sink. If you harbor reservations about splatters of water and food disfiguring a window treatment over the kitchen sink in your New Brunswick home, use durable faux-wood shutters. These products add appeal to any space but stand up to the often wet and messy kitchen environment.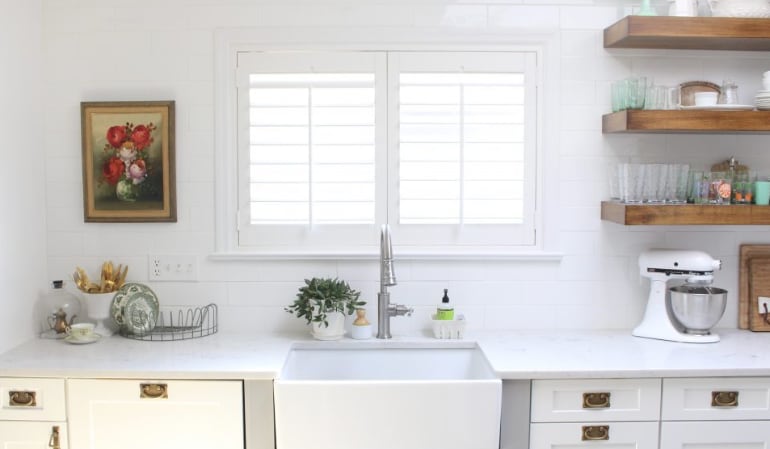 Distinctive Plantation Shutters Bring Appeal To Any New Brunswick Kitchen
Window treatments over your kitchen sink in New Brunswick should be simple and durable. However, you can still get plenty of pizzazz when you use distinctive composite shutters.
Polywood shutters blend in effortlessly with every kitchen design. They can be found in several shades of white that coordinate with kitchen appliances and finishes, and their strong panels of functional louvers offer a counterpoint to the smooth surfaces of your kitchen. They bring understated elegance to both high-end and restrained kitchens and everything in between.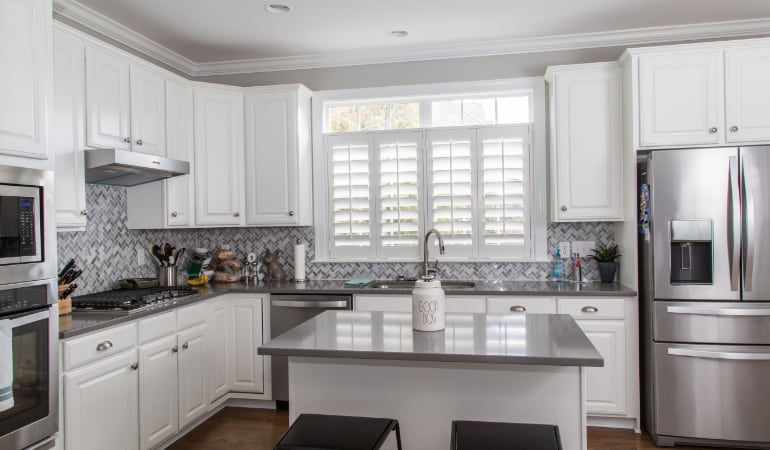 Polywood Shutters Stand Up To Harsh Conditions
Have you ever seen moisture on window panes when you're trying to boil water or wash dishes? That excess liquid clings to window treatments over your New Brunswick kitchen sink, where it will deteriorate standard fabric products over time.
You will see that Polywood plantation shutters are a easier product. The patented construction of Polywood and resilient coating are resistant to a moist and steamy environment. In fact, these products are impervious to water. Polywood shutters will not be yellow, warp, or chip from high levels of humidity.
The sun and changing seasons won't affect on the Polywood material. On the window over your sink, your shutters endure both cold drafts and powerful UV rays. These exceptional window coverings won't shrink and expand due to interior warmth or outside cold, nor will they fade in sunlight.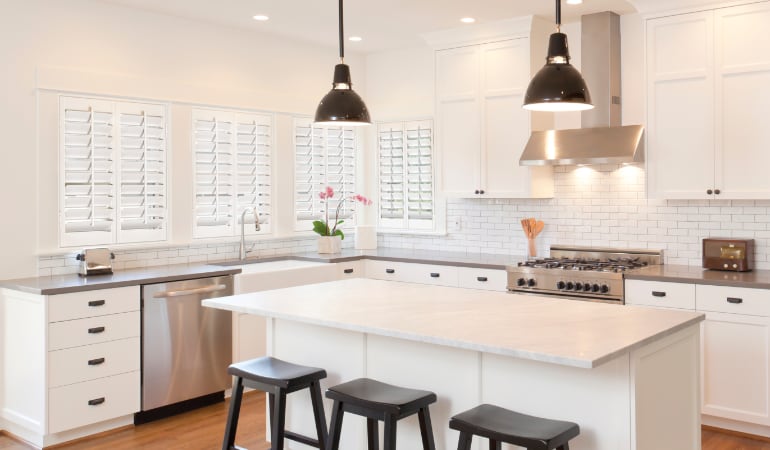 Interior Shutters Welcome Light Into Your Kitchen
Getting enough light is critical in your New Brunswick kitchen. You don't want to injure yourself because the lighting is too dim! These unique shutters give you the right amount of additional light and adjust easily. Just swing open the panels or effortlessly move the tilt rod to shift the louvers. There's no need to get frustrated with cords that always get tangled or an inconvenient pull bar that is not easily accessible when you want to change the lighting.
When looking for a flood of sunlight, open the shutter panels completely. If the sun's rays are a bit much, close the panels and adjust the louvers to your desired light settings. If needed, alter the slat position to reduce glare off counters and flat surfaces within your space. If you want to avoid neighbors seeing into your home after dark, shut the louvers tight for the solitude you desire.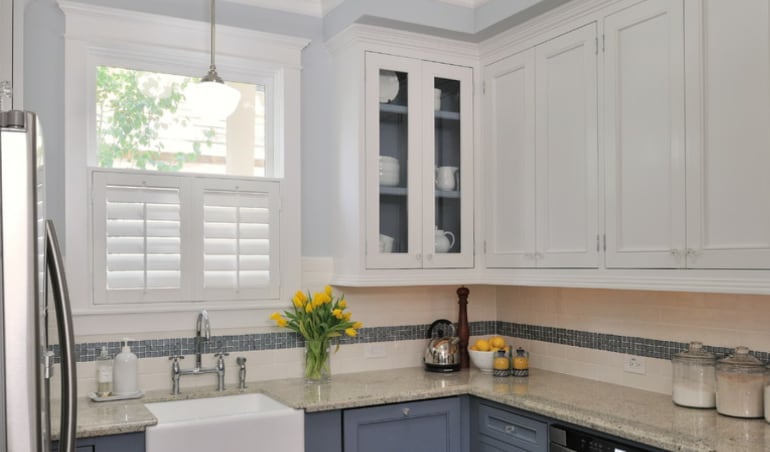 Polywood Faux Wood Shutters Are Simple To Clean
Kitchen surfaces collect sauce splatters, grease, and dirt. The window treatment over your New Brunswick kitchen sink needs to clean up easily. When taking this into consideration Polywood shutters are excellent options for kitchens. The sturdy, smooth construction doesn't stain or hold odors as fabric shades do. They just need a quick dusting or wipe with your lightly dampened rag, and they're clean again.
You don't have to waste time awkwardly moving your dust rag between the louvers as you would with traditional metal blinds. The well-made louvers are durable, and you can choose wide louvers for your custom shutters that provide ample space for you to move around.
Find Window Treatments For Over Your Kitchen Sink In New Brunswick At Sunburst Shutters New Brunswick
Sunburst Shutters New Brunswick provides the perfect solution for every window -- and that includes the windows in your kitchen. Speak with our experts about what you have in mind, and we'll customize a plan for your home. Call us today at 732-301-6168 or complete our online form to schedule a free in-home consultation.